Back up your Linux desktop
Oak Backup is a backup tool for Linux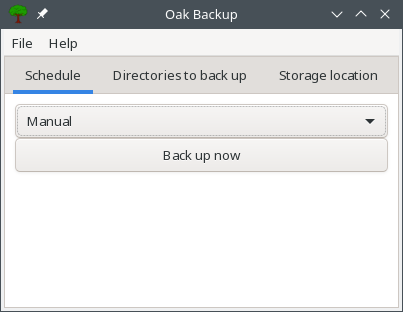 $30/year per computer
Try it for free for 14 days
No credit card required
Features
You control your data
Oak Backup backs up your files to your own AWS account.
Backups that last forever
No vendor lock-in, no custom format, just plain files.
Automated backups
Oak Backup takes regular backups of your files.
Efficient
Oak Backup backs up only the files that changed since the previous backup.
Frequently Asked Questions
Why did you create Oak Backup?
As Linux users, we were disappointed by the tools available to backup our Linux desktops. They are either complex, not reliable, bloated or based on a custom format. So we built Oak Backup to address all of these issues.
Why is it important to store backups in plain files?
To allow you to restore your backups forever

You don't depend on any tools to restore your backups.

To reduce the risk of data corruption

The last thing you want to know when you need to restore data from your backups is that your backup tool corrupted them. The simpler the backup format, the less risk your backups can be corrupted.
Does Oak Backup work on Mac or Windows?
Unfortunately no, Oak Backup only works on Linux.
Can I restore my backups if I don't renew my Oak Backup license?
Yes, you can restore your backups from your AWS account.
Download
Write us at trials@oakbackup.com to try Oak Backup for free for 14 days. You'll receive a download link by email that gives you full access to Oak Backup for 14 days. No credit card required.
Contact us at sales@oakbackup.com to buy a license. You'll receive a checkout link by email.
Privacy policy
The only information we collect about you is your email address. We will never share it with any third party and we will never send unwanted emails to you.
Your billing information is collected and stored by our online payment processor.